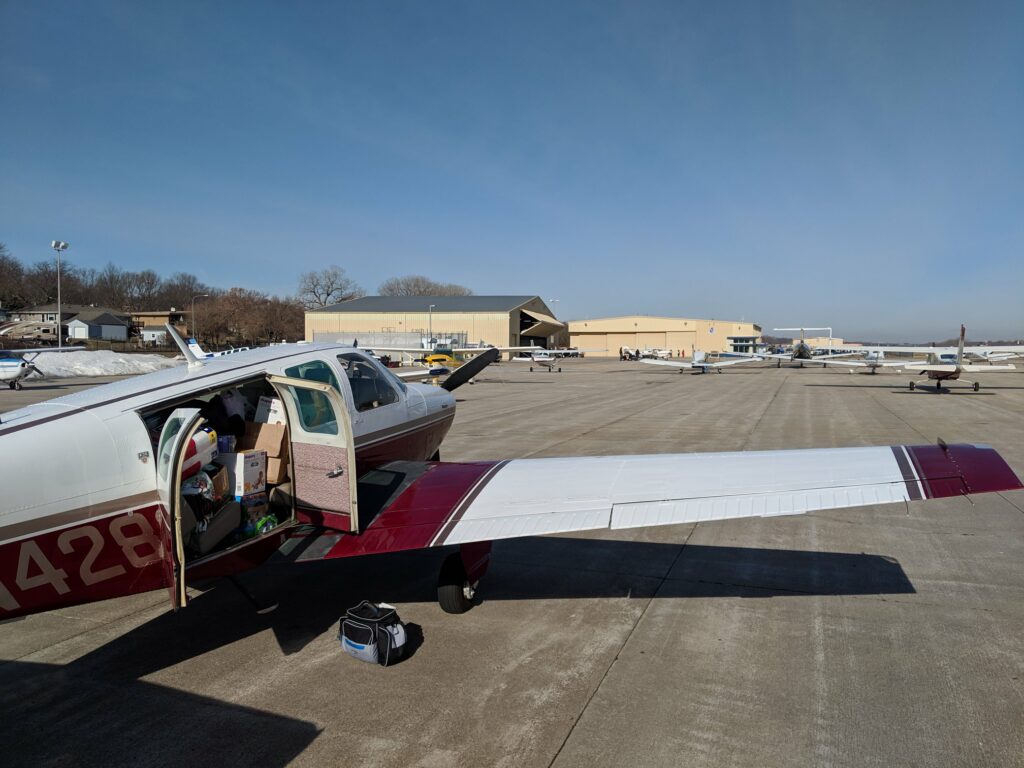 When I was a boy and I would see scary things in the news, my mother would say to me, "Look for the helpers. You will always find people who are helping." To this day, especially in times of "disaster," I remember my mother's words and I am always comforted by realizing that there are still so many helpers – so many caring people in this world.

– Fred Rogers
This photo doesn't have amazing lighting or fantastic composition. In fact, it looks ordinary. It's only when you know its story that the beauty shines through.
In 2019, Fremont, NE had been cut off by flooding. People were trying to get in and out of the town, and couldn't. The only way in or out was from the small airport. About 50 pilots from Nebraska and Iowa (and me from Kansas) came over to help. Every plane you see here — and more that I couldn't fit in the frame — was at Millard Airport, Omaha, flying people and supplies into and out of Fremont. Estimates are that we flew over 1000 people and tons of supplies that weekend. All safely.
I remember flying the family with a 1-week-old baby that had gone to Omaha for a doctor appointment and then couldn't get home for three days. I remember the elderly couple and their dog that I flew out of Fremont, the former Marine riding in the co-pilot seat next to me, cracking jokes with me as we went. I remember the group of ladies that were laughing as I gave them the required seat belt briefing, the mom with her kids, the man that had to get to work, and packed a few day's supplies in his backpack, unsure when he'd be able to get back home. It was the first some had ever been in a plane.
There were so many helpers. People all over Omaha brought supplies to Millard airport. Others had just shown up at both airports to help organize and make lists of passengers and match them up with different size planes. Someone at Millard had a trailer and golf cart for supplies. When I'd land at Fremont, before I was even out of the plane, highschoolers had already swarmed it and were helping to unload supplies or help passengers out. One time when I got back to Millard, I found lunch: a pizza place had donated pizza for the pilots, and then a restaurant in Fremont did too. With so many extra planes in the sky, Omaha ATC was slammed and still did a fantastic job.
I of course took no photos of the people I carried, but I have thought of them often in the last year.
This photo is of Millard airport, Omaha, loading up supplies. Look at all these helpers. I think it's one of the most beautiful sights I've ever seen.
Today there are billions of helpers in this world. The obvious ones: the truck drivers, the health care workers, the grocery store workers. And also the non-obvious ones: all the people that are wearing masks, practicing social distancing, forgoing Christmas gatherings, for the good of others, despite the hardship and heartbreak it may cause.
If you didn't know the story of this photo, you wouldn't know these planes were all helpers in time of disaster. We don't know the story of all the people we see in our world today, but chances are good that many of them are helpers also.
When you know their story, the beauty shines through.
May we all be able to see the beauty that still surrounds us this Christmas.