"Treasure the moments you have. Savor them for as long as you can, for they will never come back again."

– J. Michael Straczynski
This quote sits on a post-it note on my desk. Here are some moments of our fast-changing little girl that I'm remembering today — she's almost 2!
Brothers & Sister
Martha loves to play with her siblings. She has names for them — Jacob is "beedoh" and Oliver is "ah-wah". When she sees them come home, she gets a huge smile and will screech with excitement. Then she will ask them to play with her.
She loves to go down the slide with Jacob. "Beedoh sigh?" (Jacob slide) — that's her request. He helps her up, then they go down together. She likes to swing side-by-side with Oliver. "Ahwah sing" (Oliver swing) when she wants him to get on the swing next to her. The boys enjoy teaching her new words and games.
[Video: Martha and Jacob on the slide]
Music
Martha loves music! To her, "sing" is a generic word for music. If we're near a blue speaker, she'll say "boo sing" (blue sing) and ask for it to play music.
But her favorite request is "daddy sing." It doesn't mean she wants me to sing. No, she wants me to play my xaphoon (a sax-like instrument). She'll start jumping, clapping, and bopping her head to the music. Her favorite spot to do this is a set of soft climbing steps by the piano.
But that's not enough — next she pulls out our hymnbooks and music books and pretends to sing along. "Wawawawawawa the end!"
If I decide to stop playing, that is most definitely not allowed. "Daddy sing!" And if I don't comply, she gets louder and more insistent: "DADDY SING."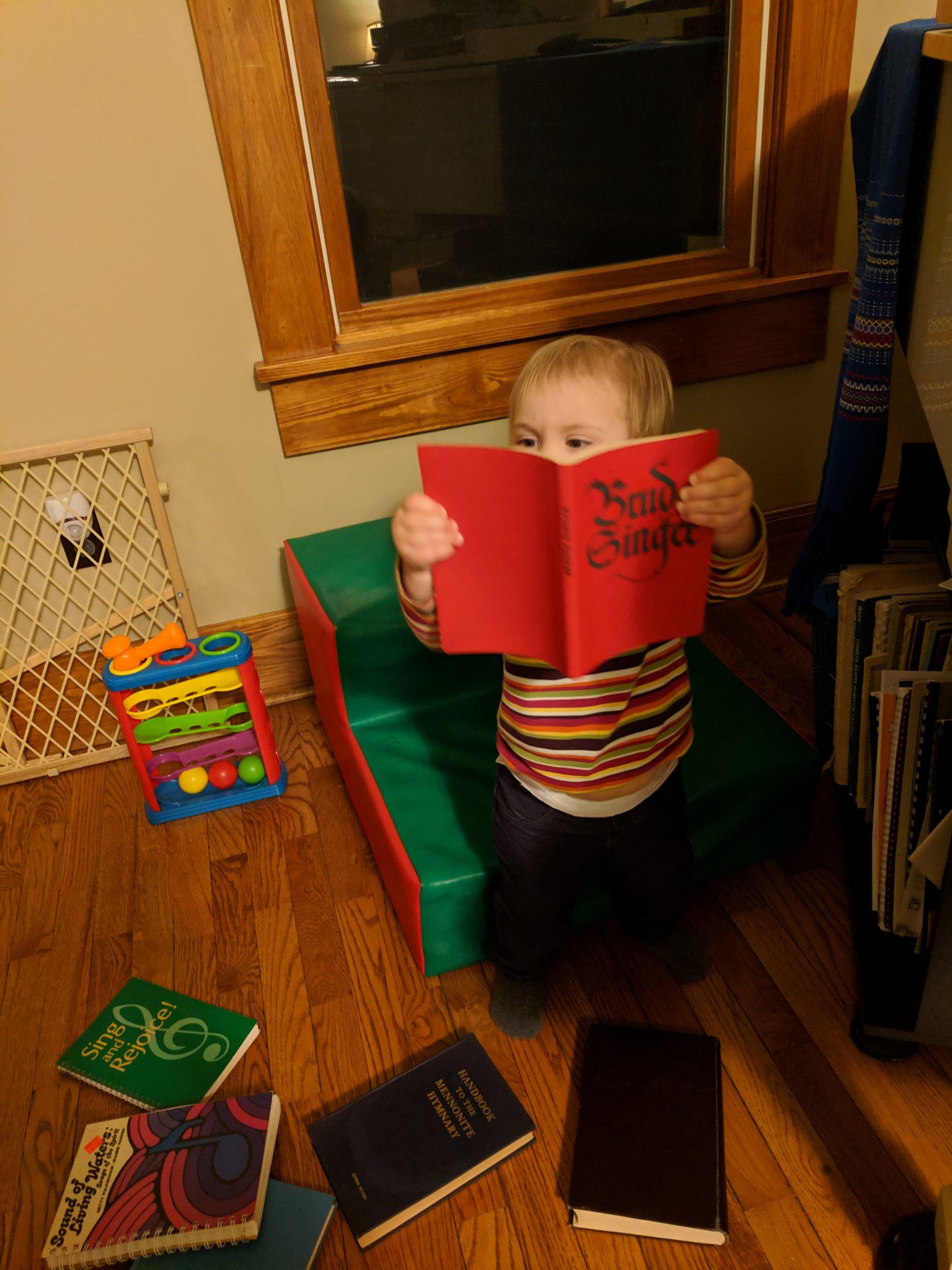 [Videos: Martha singing and reading from hymn books, singing her ABCs]
Airplanes
Martha loves airplanes. She started to be able to say "airplane" — first "peen", then "airpeen", and now "airpane!" When we're outside and she hears any kind of buzzing that might possibly be a plane, I'm supposed to instantly pick her up and carry her past our trees so we can look for it. "AIRPANE! AIRPANE! Ho me?" (hold me) Then when we actually see a plane, it's "Airpane! Hi airpane!" And as it flies off, "Bye-bye airpane. Bye-bye. [sadly] Airpane all done."
One day, Martha was trying to see airplanes, but it was cloudy. I bundled her up and we went to our local GA airport and stood in the grass watching planes. Now that was a hit! Now anytime Martha sees warehouse-type buildings, she thinks they are hangars, and begs to go to the airport. She loves to touch the airplane, climb inside it, and look at the airport beacon — even if we won't be flying that day.
[Video: Hi big plane!]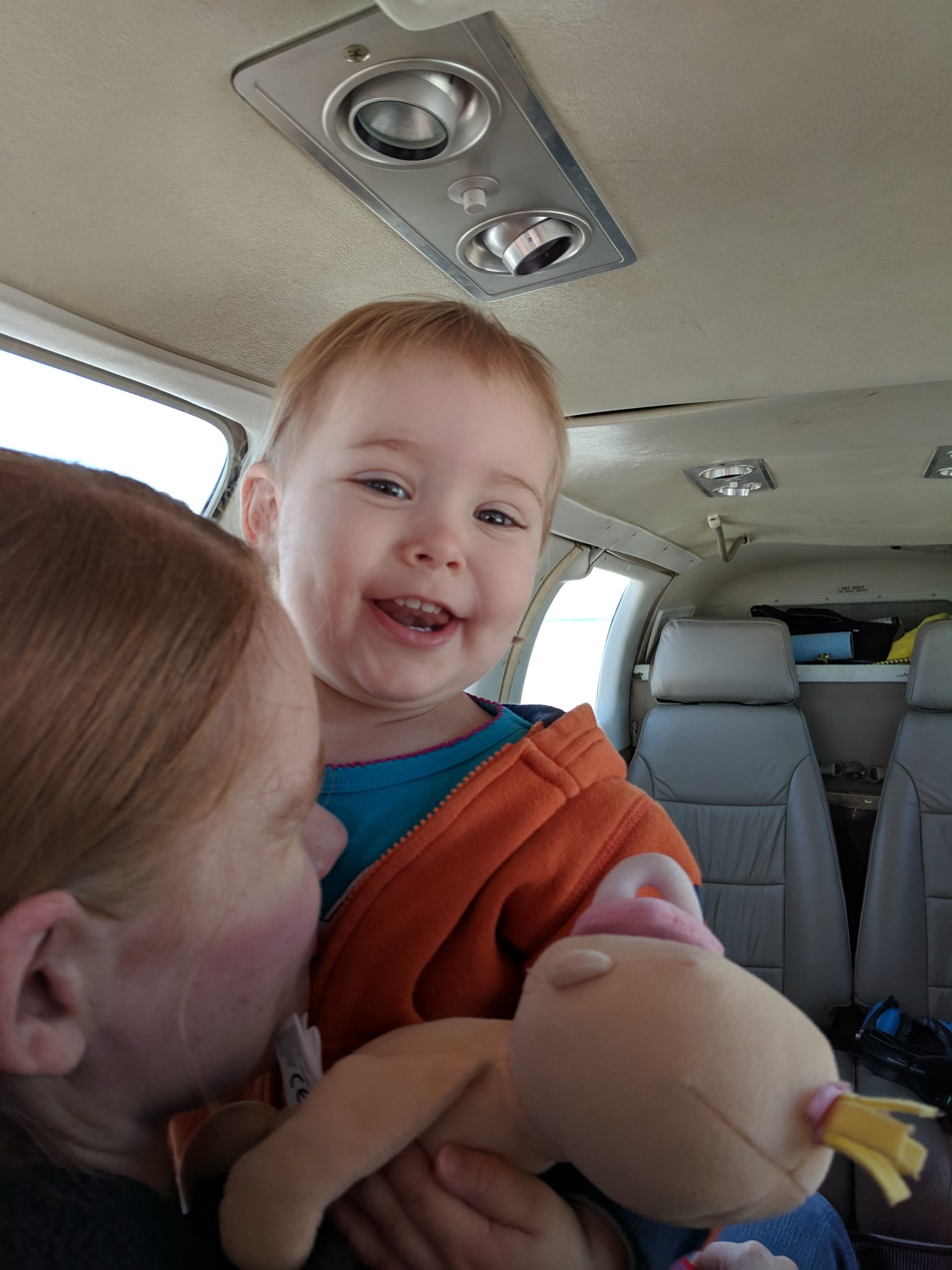 This year, for Mother's Day, we were going to fly to a nearby airport with a restaurant on the field. I took a photo of our family by the plane before we left. All were excited!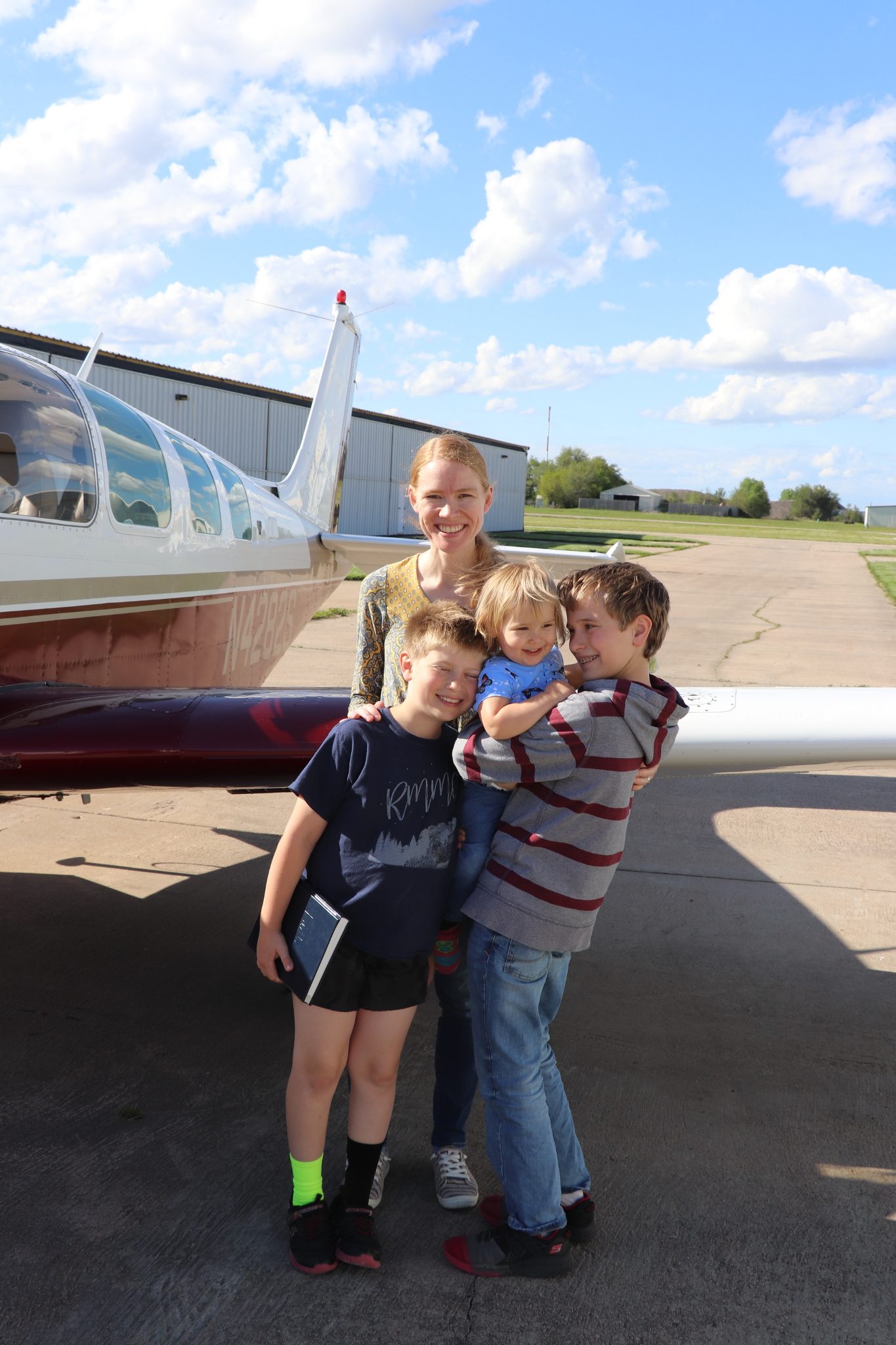 Mornings
We generally don't let Martha watch TV, but make a few exceptions for watching a few videos and looking at family pictures. Awhile back, Martha made asked to play with me while I was getting ready for the day. "Martha, I have to get dressed first. Then I'll play with you." "OK," she said.
She ran off into the closet, and came back with what she could reach of my clothing – a dirty shirt, and handed it up to me to wear. I now make sure to give her the chance to bring me socks, shirts, etc. And especially shoes. She really likes to bring me shoes.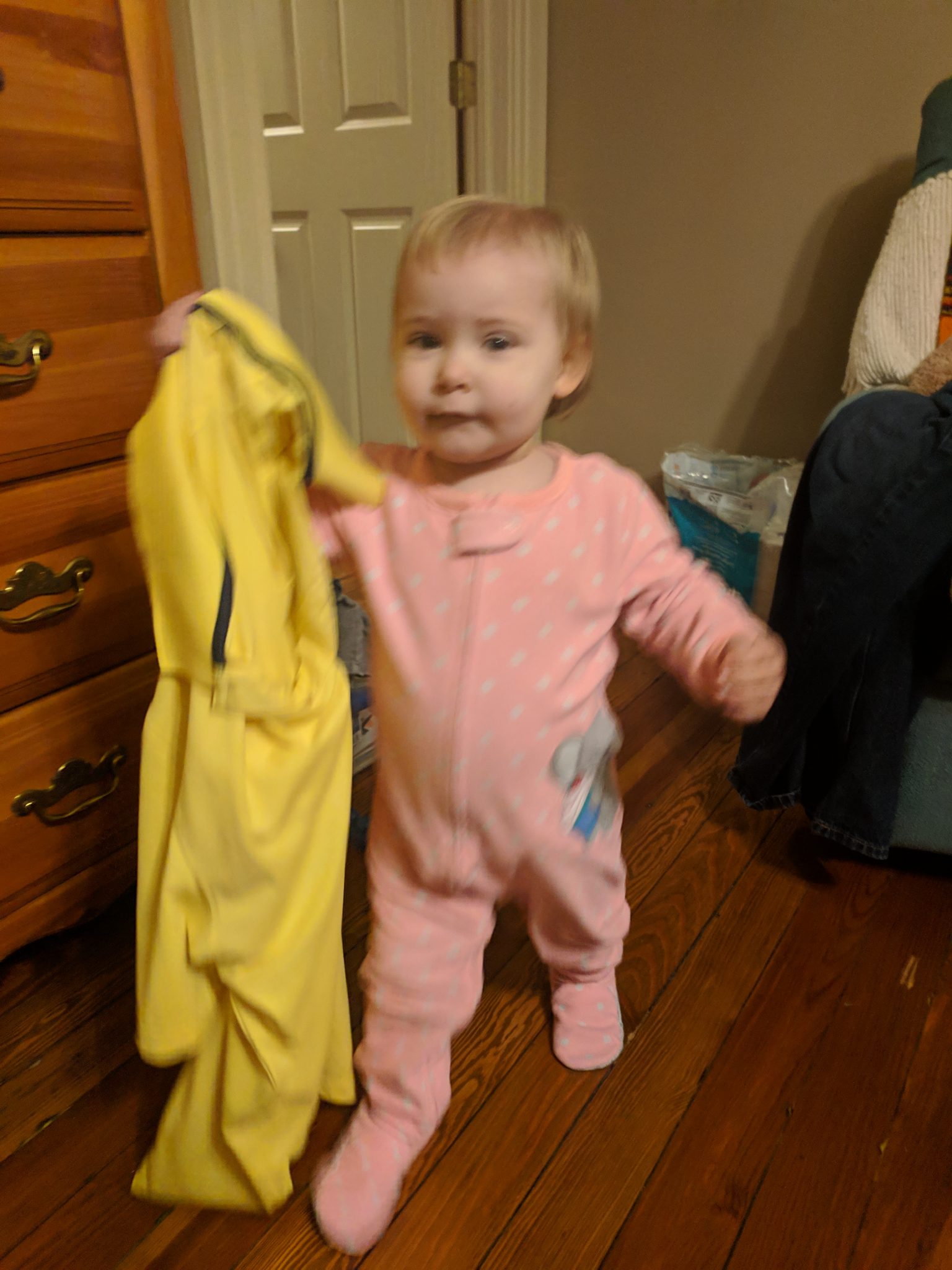 Then we go downstairs. Sometimes she sits on my lap in the office and we watch Youtube videos of owls or fish. Or sometimes we go downstairs and start watching One Six Right, a wonderful aviation documentary. She and I jabber about what we see — she can identify the beacon ("bee"), big hangar door ("bih doh"), airplanes of different colors ("yellow one"), etc. She loves to see a little Piper Cub fly over some cows, and her favorite shot is a plane that flies behind the control tower at sunset. She'll lean over and look for it as if it's going around a corner.
Sometimes we look at family pictures and videos. Her favorite is a video of herself in a plane, jabbering and smiling. She'll ask to watch it again and again.
Bedtime
Part of our bedtime routine is that I read a story to Martha. For a long time, I read her The Very Hungry Caterpillar by Eric Carle. She loved that book, and one night said "geecko" for pickle. She noticed I clapped for it, and so after that she always got excited for the geeckos and would clap for them.
Lately, though, she wants the "airpane book" – Clair Bear's First Solo. We read through that book, she looks at the airplanes that fly, and always has an eye out for the "yellow one" and "boo one" (blue plane). At the end, she requests "more pane? More pane?"
After that, I wave goodnight to her. She used to wave back, but now she says "Goodnight, daddy!" and heads on up the stairs.